Comic book magazine iPad web app prototype
Demonstration of a comic book iPad web app prototype I created in 2012. I also read through the comic so this video doubles as story time!
I saw the iPad as the solution to a clean, fully immersive experience for reading comic books when it first launched in 2010. Most people around me dismissed it as a giant iPod Touch, however, I saw it as an ideal platform for launching a comic book magazine myself! A dream I've always had.
I envisioned the iPad's screen displaying a single page from a comic book which readers would flick from page to page (now referred to as swiping left/right). How even more aesthetically pleasing it would be if a single comic panel filled the screen?
I also had the idea of providing an email subscription for readers to be notified when new comics were available.
I put together a working proof-of-concept at ipad.superspud.com in 2012 (I waited until the iPad launched in Canada with a front facing camera so I could Skype on the go) with the help of a developer friend to code the flicking. I designed the interface, drew four comic "episodes", set up the email subscription sign up form, and wrote all the content.
I focused my proof-of-concept exclusively on the iPad to keep production and development simple since screen sizes differed greatly from the iPad to the iPhone, iPod Touch and Android tablets. I'd worry about responsive design for a proceeding phase.
I was pleased with the results but my day job and life got in the way as I was tackling the responsive design challenge. Unfortunately, I didn't have the opportunity to further develop my idea as another project ended up exceeding expectations and taking off. A good problem to have! Long story short, I wrote a survival guide to stuttering – with comics, naturally – that sold well and spawned a brand and merchandising side hustle featuring the protagonist of my comics!
So my iPad comic idea hasn't been abandoned quite yet. It only has evolved. The Kindle, Apple magazines, and Comixology's guided view came to be as well as Marvel and DC launching their own apps. I've been researching these as possible platforms for my own comics while also focusing on how to make digital comics accessible to people with disabilities.
Due to changes in browsers and the iPad's former universal dimensions over the years, my proof-of-concept web app no longer neatly fills up the screen. As of this writing, it seems to only work in iPad Minis using the Chrome browser. So I decided to shoot a walk-through video for posterity. Plus, it makes for a great story time video!
Every comic book hero has an origin story, so do proof-of-concepts! Following are the proof-of-concepts I devised, prototyped, tested out, and learned from that eventually lead to the Super Spud iPad web app and my current comic strip projects.
An earlier web app
A few years earlier, I had worked on a proof-of-concept web app that offered a similar experience as the aforementioned Super Spud concept of flicking from one page to the next. This time, however, the protagonists were Franky Banky and Ti-Ger, a fox that stutters and a tiger representing his stuttering, respectively. The two were demonstrating the benefits of facing your fears of stuttering openly.
My vision for the app was to act like a pick-me-up when stuttering gets the best of users. I aimed for a quick experience that involved flicking from one page to the next. Copy was also as short as possible.
I used a white label framework and a vertical orientation. Only, screen sizes between iPhones and Androids started changing and I didn't want to leave out Android users. So I put the project on hold while I studied the development of apps for both platforms. However, my heart was in creating content and building community, not developing code. Then the iPhone got updated breaking the framework I was using.
So I started thinking of a more universally accessible platform. Twitter. But first, a trip back to 2007.
Twitter Spud
I was itching to experiment with Twitter as a storytelling platform. And yes, featuring Spud. "Twitter Spud" was an idea I had come up with in 2007, the early days of Twitter and before I learned the crime of writing "click here" in link text. I created Twitter accounts for Spud and Willomina to bounce off each other to the amusement of readers. This took place when Twitter wasn't a hot bed of yelling and outrage.
I tweeted as Spud and enlisted the help of a friend to tweet as Willomina. I spliced together the RSS feeds of the protagonists' conversations and embedded them on the Twitter Spud website in order to make it easier for new readers to follow along.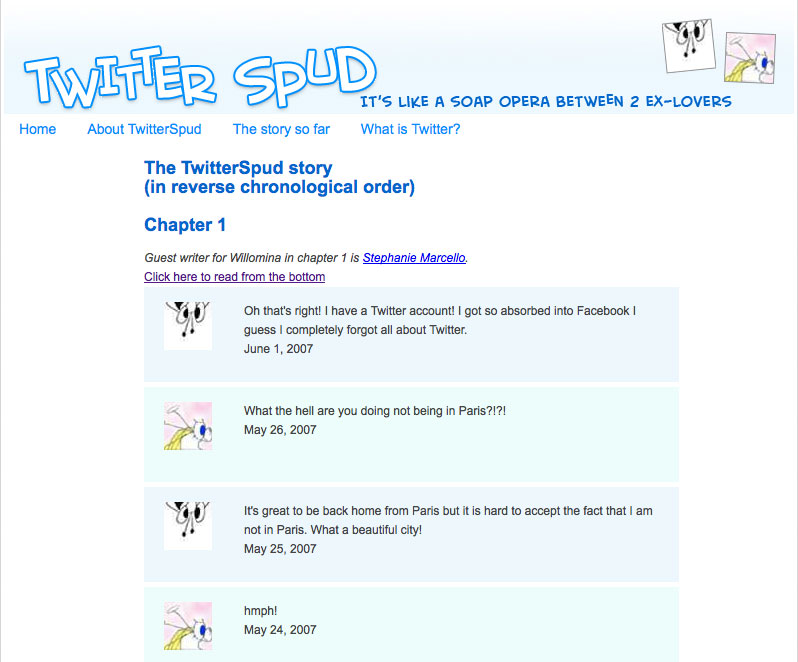 Readership wasn't too bad and my project was mentioned on Mitch Joel's Six Pixels of Separation podcast! However, I quickly found that developing stories through tweets between characters caused too much confusion. Not the same as, say, tweeting lines from novels which many authors did on Twitter in those days.
Comic magazine on Twitter
I was on my way downtown to celebrate New Years' Eve with my friends when I came up with a comic magazine idea based on my Twitter Spud learnings. This time I'd be utilizing comics formatted for mobile viewing and Twitter would be the platform to announce new comics (I was really into Twitter back then!). Followers would see the tweet, tap, then simply flick up to read. Perfect for reading on the commute to work on public transit or with the morning coffee. And the comics wouldn't need pinching and zooming since each panel would take up the width of the screen.
My excitement evolved this idea into creating four twitter accounts each featuring a comic series. Hence, a comic magazine on Twitter. However, I couldn't figure out an income stream (and dedicate enough time to draw all those comics on a high frequency basis enough to build an engaged audience) and by then, the iPad had launched along with competing tablets by Google, Blackberry, and Microsoft each with different dimensions but offering a platform perfectly suitable for producing a comic magazine. But I've already shared that story!
Epilogue
Fast-forward to 2013 when I decided to write a book to accompany my podcast, Stuttering is Cool. My idea was to share not only my experiences with stuttering and reaping the benefits of not fearing it, I wanted to also include comics, starring Franky Banky and Ti-Ger, in order to use humour to educate and create a sense of community around a shared experience. Stuttering is Cool: A Guide to Stuttering in a Fast-Talking World did well beyond my expectations:
Selling 100 copies in its first month;
Listing as a textbook or required reading in 10 universities across North America;
Translated into French;
Expanding into producing and selling Franky Banky merchandise on Etsy; and
Invited to give a cartooning workshop to kids at the National Stuttering Association annual conference.
And today, in 2020, I'm drawing more Franky Banky comics across social networks and on the Stuttering is Cool website. Thus, my quest for creating the best experience foruniversally accessible web comics continues! However, my focus is now on transmedia and Franky Banky as a brand/product experience. Watch this space!