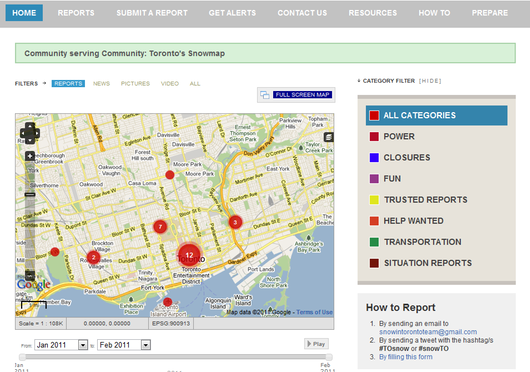 Open source citizen mapping platform Usahidi has been successfully was used in helping citizens, relief workers, etc. in crises around the world such as the Kenyan post-election violence, Haiti earthquake and most recently, a snowstorm in Toronto.
Yup, you read it right. A snowstorm in Toronto calling for a whopping 30cm. But don't snicker just yet. I think this was a great scenario for testing citizen mapping during a disaster. Better to be prepared when a real big thing hits.
I first heard about this on Twitter where it's common to read whiny tweets about the snow no matter how little. However, I was intrigued by the use of Ushahidi in this case. So, I volunteered my time in the testing and montoring of Snow in Toronto. We are fortunate to live in an area without major disasters and catastrophes so this is a good time to get an hands-on experience at citizen mapping.
I was part of a team moderating incoming reports. It was a great experience to donate my time and skills as part of something that was made to keep people safe. A far more productive Twitter experience than plowing through loads of tweets (in my own Twitter stream) of people complaining about the snowstorm.
This is my interview with CrisisCommons Community Working Group co-lead, CrisisCamp Toronto City Lead and CrisisCommons Canada lead, Heather Leson.