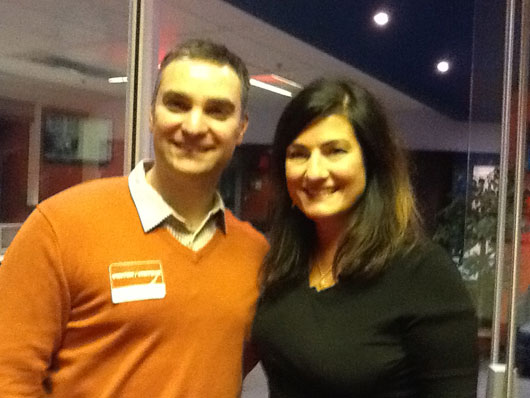 It's too bad the iPad doesn't take very good photos indoors. But that still doesn't take away my excitement of being interviewed on CBC Radio One's superb afternoon drive program, Here and Now hosted by Laura Di Battista last night!
We chatted about my latest digital venture, Stutter Social, how social media tools are useful for support groups, The King's Speech, and what's it like to grow up stuttering. Best of all, I also had the chance to debunk a few common stuttering misconceptions and spread a little awareness. The host also mentioned my podcast!

It was quite thrilling to come into the studio and chat for 7 minutes (that's a long time for radio!). Of course, I was nervous but once I was on the air, I was completely at ease and happy to stutter in front of CBC Radio One's listening audience :) Much thanks to Laura Di Battista for making me feel totally comfortable. She's a great interviewer.
It was also cool to see Jim Curran sitting beside me reporting on Toronto's rush hour traffic. It was great to be able to put a face on the voice I heard many, many times as I listened to Hear And Now over the years.
To my delight, my interview is archived on the Here And Now website on it's own page called, naturally, Stutter Social.
Related reading: I was interviewed on CBC Radio