I'm really excited about the roll out of Hangouts On Air to everyone. Branded pages, too. With this option enabled, you can broadcast your G+ Hangout on YouTube and archive for later viewing. Of course, you're able to also broadcast from your G+ stream and use embeddable code to broadcast from your website.
This is a very big game changer
Some tv news outlets have already been experimenting with Hangouts:
As a podcaster, this immediately brings to mind a live studio audience. Those in your Hangout and, say, a twitter back channel.
My friend and fellow podcaster, Dr. Vibe and I immediately jumped on trying things out as soon as we heard On Air was available to everyone.
So how does it work?
Naturally, you'll need to have a YouTube account. For branded pages, I recommend a separate YouTube account. Please note that in order to have a recording of your hangout, you'll need to verify your YouTube account via SMS, a one-time process.
When you start a hangout, you'll see a new option allowing you to "Enable Hangouts On Air".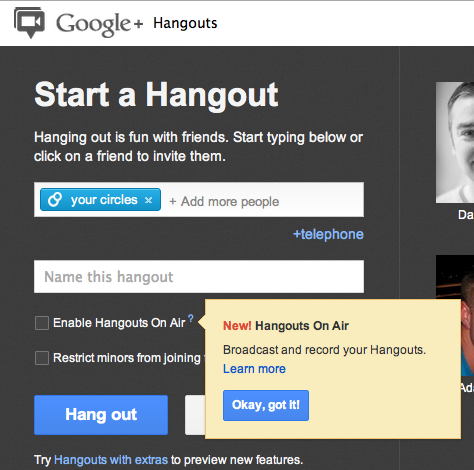 Click it and once your Hangout window appears, you'll notice something new at the top. Broadcast URLs for you to share and code to embed on the left of a big, red button to start the broadcast.

Users get an eye catching notice before entering a Hangout that's being broadcast. Note that users need to explicitly agree before being able to join. Nice touch, Google!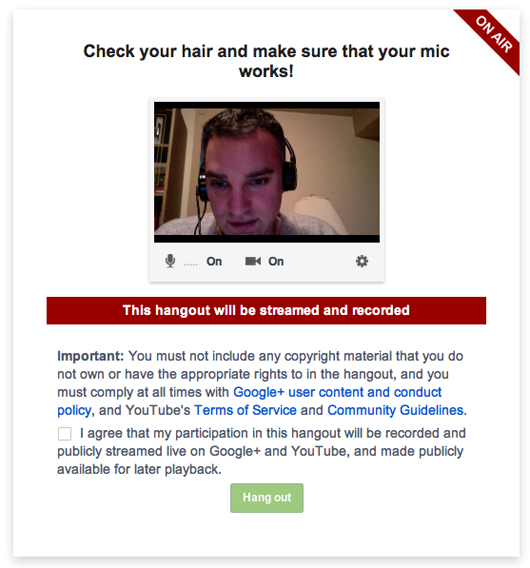 Curiously, we were able to broadcast our Hangout via the embed link on Dr. Vibe's website without pressing the Start Broadcast button. Mind you, his site is hosted on wordpress.com and the page was in draft mode. We didn't have a chance to test further to see if this is a bug or a very thoughtful Ux feature by Google.
I can't wait to get started with my own Hangouts On Air for Stutter Social and beyond!