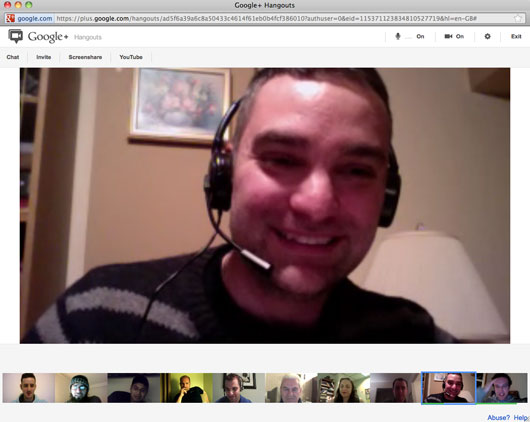 In today's word of social network overload and media buzz this and media buzz that, Google Plus' epically awesome Hangout feature has been further improving itself with new easy-to-use features and productivity tools.
Even if you don't have the need for "yet another" social network (seriously, G+ kicks Facebook any day. If only all my friends would jump ship), G+ Hangouts offer a great opportunity to connect with other people who share similar interests via video conferencing.
I feel this is a much more natural way that us humans were made to interact with each other. While nothing will never, ever beat meeting in person and it's a welcomed change from forum trolls and text-on-screen lacking emotional context and tone.
Up to ten people can participate in a Hangout. And it doesn't at all get confusing. You know when someone is done speaking and the Google user experience designers did a great job at making it easy for people not to speak over each other.
You have a main view area and small thumbnails of everyone in the Hangout. The thumbnails are video! Not a static image of someone on a beach or someone's wedding photo.
The main view area simply shows you the video of whoever is currently speaking. It automatically switches to the next person who speaks.
It is such a seamless experience that a few times I forget I'm in front of a screen and I point to people or point my face towards someone's thumbnail as if we were all sitting at a restaurant table!
And of course, being able to put an actual live face to Hangout participants makes everyone more approachable and easier to establish friendships.
How much does it cost to use this?
NOTHING! It's totally FREE (hear that Skype?). And it's ridiculously easy to use. Any G+ user can start a Hangout as well as a branded G+ page. The New York Times hosts panel discussions, several television media outlets use Hangouts during their broadcasts and – full disclosure – I'm the co-founder of Stutter Social, an online community turned organization which uses G+ Hangouts to create online support groups for people who stutter.
I've seen lists of prolific bloggers, professional organizations and musicians making use of Hangouts. Heck even cooking demos!
Hangouts perfected online collaboration
My Stutter Social team mates live all over the world. Naturally, we use Hangouts for our meetings. We're able to collaborate on a document using Google Docs (now "Drive") right in a Hangout. Instant collaboration by all members.
Other applications you can use include screensharing, drawing tools, SlideShare, YouTube, games and more.
So yeah, I'm definitely a fan(boy) of G+ Hangouts
Anyone with a gmail account automatically has a G+ account. Log into gmail, look at the top left corner in the black bar, see your name with a plus sign in front of it? Click it. You're now in Google Plus.
Great interface, eh? My eyes love it and thank the designers profusely.
There are two ways to find Hangouts to try out. Click the Hangouts button on the left menu and on the right side you'll see a list of all your contacts who are currently in a Hangout. Simply choose the Hangout you'd like to join.
The other way is via a nifty plug-in for Google Chrome named Hangout Canopy. It lists all the Hangouts currently going on.
You can even invite people into a Hangout by TELEPHONE. It's free for U.S. and Canadian phone numbers.
You can also participate in Hangouts on your smartphones and tablets. We've had someone join us on Stutter Social while riding the bus home. Co-founder, David Resnick, connected via his iPhone to give a tour of a venue where he was about to play in a concert.
And this is only the beginning. The Google engineers have been working closely with users gathering feature wish lists, bug reports and even hanging out with us.
One particular feature I cannot wait for is Hangouts On Air. Currently in invite only exclusive beta, this gives us the option to broadcast our Hangouts on YouTube. This, my friends, will open up A LOT of opportunities.
edit: Google announced the public roll out of Hangouts On Air a day after I posted this! Woo hoo!
I can't yet mention what I or my Stutter Social team have up our sleeves but watch this space!
I'll talk about best practices when participating in a G+ Hangout in my next blog post.