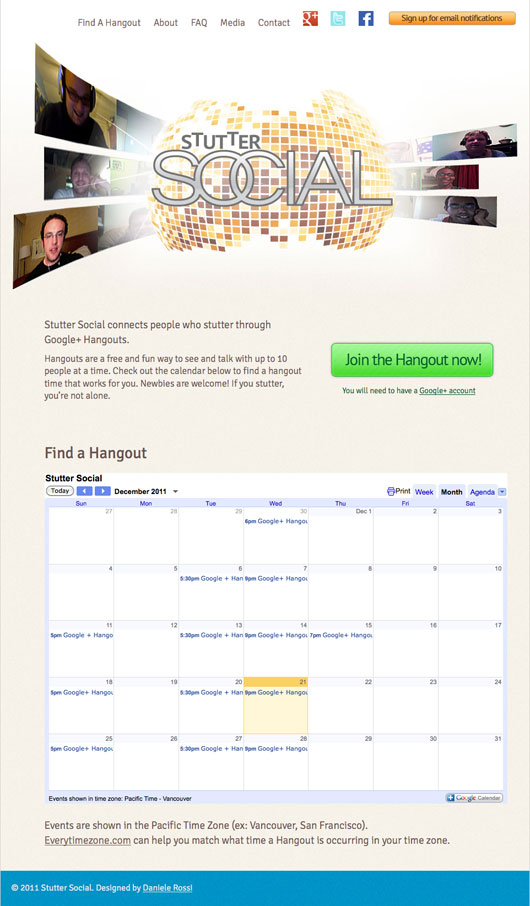 Stutter Social is a new organization I recently co-founded with my friend, David Resnick. It connects our fellow stutterers all over the world through group video chats. Using Google Plus.
Why would we want to do that? Because it's often difficult to meet other people who stutter in your geographical area so you end up facing your unique social challenge alone. It is said that only 1% of the population stutters. We are faced with many prejudices including bullying at school, losing job interviews and worse of all, stuttering is misunderstood as a character flaw. Science continues to prove that it is neurologically based.
So meeting other stutterers online is the next best thing! In fact, that is our goal with Stutter Social. To spread the message of the National Stuttering Association – if you stutter, you're not alone.
Why Google+?
We decided to use Google+ Hangouts because it's free to use, pretty easy to use and a lot more stable than Skype. When David, myself or our other Hangout hosts starts a chat, we post the link to the Stutter Social Google+ page. As well as the Stutter Social Facebook page, Twitter account and right on the Stutter Social website homepage via a great big green button. You can't miss it.
We host three to four Hangouts per week right now and momentum is growing to include more in timezones around the world (stuttering is taboo in some geographical locations while others do not even have speech therapists!). On average we get about five to nine people hanging out at one time and our Hangouts last about 2 hours. Sometimes longer! Topics of conversation include stuttering, of course, our experiences and off topic stuff like, well, whatever happens to be on our minds at the time!
Hangout Hopping and going viral
Thanks to a brilliant Chrome plugin named Hangout Canopy, which allows users to go "Hangout Hopping", Stutter Social even played a role in spreading awareness about stuttering. In fact, one night, David suddenly found himself educating a large number of Hangout Hoppers. The next day – blog posts about our unique use of Google+ Hangouts started popping up in G+ Streams. Such as this article written by Peter McDermott. And David being interviewed on Sarah Hill's KOMU News program.
New website
Initially, we used Google Sites to host the Stutter Social website. But as momentum and media attention grew, we knew it was time for a new home for our organization. As creative director, I designed the new Stutter Social website with a simple user interface consisting of only need-to-know information up front and center to bring users to our Hangouts as quickly as possible. Or to find future Hangouts via an embedded Google Calendar.
David and I really like using Google+ Hangouts for Stutter Social and now with the arrival of "Hangout with extras", we have a few more features to engage participants.
David and I chatted about Stutter Social on a recent episode of my podcast, Stuttering is Cool. You can also listen to a few snippets of typical conversations in our Hangouts.
Stutterer or not, I hope to see you in a future Stutter Social Hangout. I'd also love to hear how you are using Google+ Hangouts in unique ways. Please share your story in the comment section below.