Using emerging technology as a storytelling medium
With a love for emerging technology and storytelling, I am "that guy" who tries every new tool to find novel ways for engaging audiences through content and mediums. My comics, podcast, and personal social media accounts are usually my test subjects as I sandbox proof-of-concepts. A few of my favourite proof-of-concepts are outlined below.
Storytelling with an iPad when web apps were the next big thing
As I watched the Apple keynote announcing the launch of the iPad, my first thoughts went straight to a new storytelling method for readers of digital comics. I envisioned a website functioning as an interactive comic book. My friend, Andrea Ross, worked on the backend while I worked on the front end and, of course, the comics. The result was a proof-of-concept web app exclusive to the iPad complete with email newsletter sign up and Twitter integration.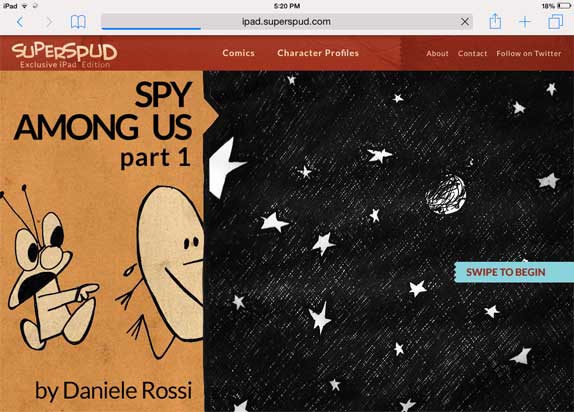 When Twitter had just launched
A month or so before Twitter made it's debut at the SXSW festival in 2009, I was brainstorming new storytelling methods to engage readers of my comics. I devised TwitterSpud. I created accounts for two of my characters and planned to tell a story through their tweets to each other. Since it was the early days before hashtags or a Twitter API was born, I created a website to display their conversation in chronological order. I ended up telling two stories before shutting it down due to life responsibilities and working on other proof-of-concepts!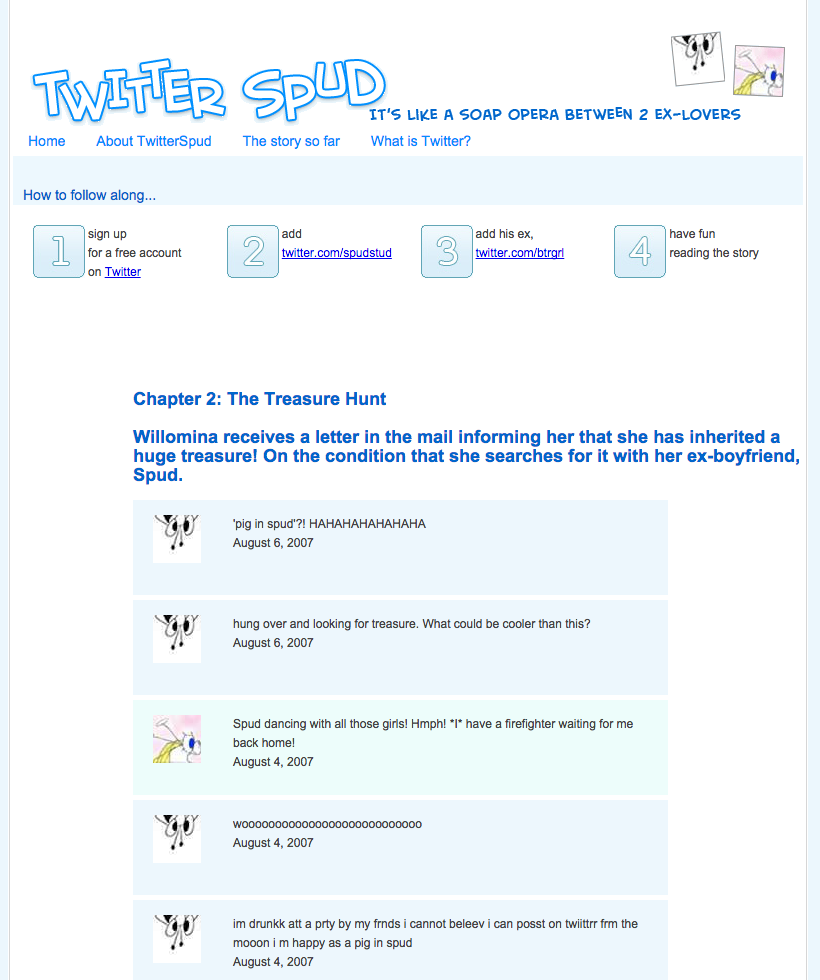 When Google launched Google+
Google+ was only a month old when I was asked to co-found Stutter Social, a non-profit organization facilitating group video chats for people who stutter (PWS). It is said that only 1% of the world's population stutters which means it tends to be very difficult to meet another person who stutters. And research shows that PWS benefit from meeting others who stutter and sharing experiences. Since video conferencing over the Internet can be the next best thing to meeting PWS in real life, we decided to test out a few technological solutions. Google+ Hangouts was the winner by a landslide. It was free, easy to use, and had a low barrier to entry.
We were immediately successful after launch as Hangouts filled up quickly along with media attention, being featured on Google's intranet, and being asked for feedback by Google's head engineer. Most importantly, feedback we received confirmed that we were changing lives for PWS. Then we launched an app in 2015.