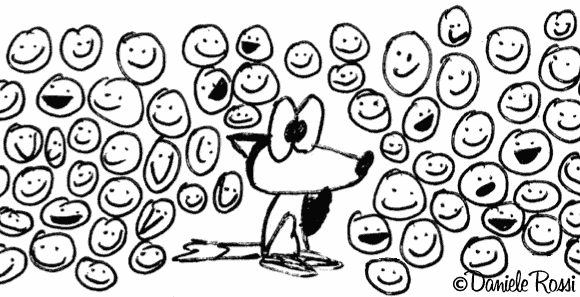 Slight excerpt from the book I'll be crowdfunding
Crowdfunding is my latest learning adventure. Joining forces with my friend, Jean-François Leblanc, who lives in Quebec City, we will learn this exciting new field first hand — in not only raising funds, but also ongoing engagement with a community in a slightly different environment from the usual social media for a brand.
Soon, Jean-François and I will be crowdfunding to produce a French translation of my book, "Stuttering is Cool: A Guide to Stuttering in a Fast-Talking World" which I self-published at the end of 2013. Jean-François and I met through my podcast of the same name, then in a Stutter Social hangout and in person at the National Stuttering Association conference in 2012. Along with about 200 of our fellow stutterers in the community, we've been friends ever since.
Two audiences, different languages
Since our target audience will be the francophone stuttering and speech language pathologist communities, we will be running what is somewhat a bilingual campaign. One of the best practices for running a successful crowdfunding campaign is to first tap into your existing network of friends, family, associates, etc. Both Jean-François and I are active in the English speaking stuttering community but would they be interested in funding a version of my book written in a language which most of them do not understand?
Fortunately, Jean-François also hangs out in the francophone stuttering community where the wishes of a French version of my book emerged. He will be helping me connect with our online francophone audience. Thus, our campaign will naturally be in French.
However, we shouldn't pass up opportunities should anyone from our English speaking community wish to back our campaign. Thus, our campaign could benefit from being bilingual.
User experience and digital strategy
Putting on my user experience architect hat, we can't run the risk of losing interest of potential backers if they are frightened away by a scrolling page of a lot of text. Generally speaking, people spend up 7 seconds scanning (not reading) a website. If they don't find what they are looking for within that timeframe, they tend to leave.
Will the interest of potential backers, French or English, remain if they come to a page full of text in one language or the other? Will one language group even think to scroll down to see if a version in their language exists? Will they even be bothered to use Google Translate?
The user experience best practice is never out expect users to do any work. This is where digital strategy comes in. But more about this in a future post.
Why French?
Creating a French version of my book was on my wish list since I started work on my English book. Being one of Canada's official languages, why wouldn't it be?
Although it is hard to get exact figures, according to reliable sources cited by Wikipedia, it is estimated there are more than 100 million people in the world whose mother tongue is French. And an additional 100 million people who speak and understand French very well. It is said that 1% of the world's population stutters so there are indeed benefits to producing a French version of "Stuttering is Cool" beyond Canada's borders.
Unfortunately, as much as I had tried to keep the French I learned in school and no matter how much I love the language, I just wasn't able to keep it in practice over the years living in Toronto. So I am really fortunate that Jean-François is interested in helping me with the campaign.
Hooray for crowdfunding!
I am also fortunate to be living in a time where anyone is able to raise funds for a business venture no matter how large or small. Crowdfunding has exploded in recent years allowing anyone to produce a music album, bring a new product to market, or even help out a charity.
Stuttering is quite a super niche topic and no publishing company would be up for publishing my book when they are used to bringing in sales in the 5 figure range and over. Hence why I went the self-publishing route last year. Sales and feedback have been good so far and creating the French version would provide a great learning opportunity about crowdfunding for my and Jean-François' professional skill sets.
According to a bunch of sources in this infographic, $2.7 billion was raised in crowdfunding projects in 2012 and 5.1 billion in 2013. Even big name brands like DC comics have run a few. And there are currently over 600 crowdfunding platforms in the world. Crowdfunding is definitely not going to disappear. As a community builder, this is an area that I'd like to gain new skills in early.
I'll also be learning some new things about the Francophone online community around the world while I teach Jean-François the ropes in community management and engagement.
And I'm planning to blog about my experiences as we go along. Hopefully you will be inspired to give crowdfunding a try. Please feel free to share your plans for crowdfunding or perhaps you are a seasoned veteran? I'd love to hear and learn from your experiences.
October 12, 2014 addendum: Looks like life got real hectic since I originally posted this announcement. Jean-François and I decided to post-pone our crowdfunding adventure to next year. Can't wait!