I checked out the Van Gogh exhibit at the National Gallery of Canada in Ottawa last week and was met with a complete surprise.
I ran into my friends, Rob and Katherine, before getting in line. Katherine snapped a photo and tweeted: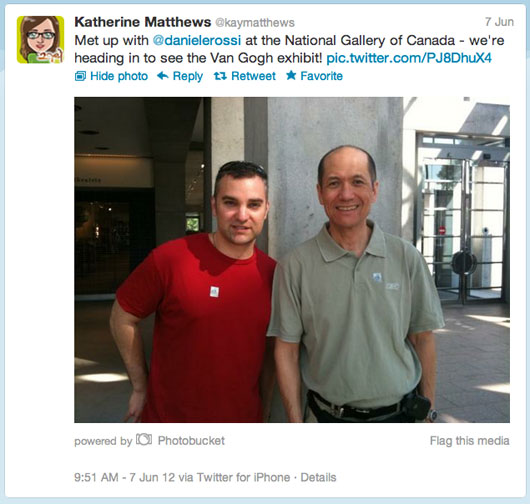 We walked into the Van Gogh exhibit and the first painting we admired was Vase with Cornflowers and Poppies. A few minutes later, two nice people came up to me and said they recongized me from the photo that was tweeted (see above).
Turns out, they were part of the National Gallery's social media team. They saw Katherine's tweet and wanted to thank her in person!
We were thrilled at the reaching out. Particularly since we were in town for the PAB conference – a digital media conference about creating content that connects people.

I asked if this is something they normally do. We were told that it was their first time doing something like this. The idea came to them when they saw Katherine's tweet. Wasting no time, they grabbed a few Van Gogh posters and sought the people in the photo.
Well done! What an awesome way to reach out to your guests. And a pleasant surprise.
By the way, we enjoyed the Van Gogh exhibit very much. In fact, I have been inspired to make a painting!